Femme Friday: Melissa Leitru
Melissa Leitru is a wife, hairstylist, and now salon-owner of Wild Honey in the heart of Norwood (a Cincinnati 'burb). I had the chance to sit down with her and ask her about opening Wild Honey, being an entrepreneur, and about her beekeeping (badass, right?).
Melissa has always had a vibe that draws people near. I know this because I am lucky enough to have known her since middle school. We both grew up in the same small town of Trenton, Ohio. Trenton is the definition of small town America... in a setting split between industry and farm land. While it is less than an hour from the heart of Cincinnati, they are worlds away in culture.
A lot of who Melissa is today is birthed from her experiences growing up. While we both share a unique fondness for home - we also share a fierce love for Cincinnati. I have always loved how Melissa makes everyone feel like a friend - and it comes from an honest, deep love for others - no matter how they look or sound. Melissa is covered in tattoos, owns her own business, and draws her strength from her faith and marriage... sounds intimidating, right? But, Melissa is ENTIRELY approachable... the type you want to sit in a chair, get your hair done, and tell her your deepest secrets.
Melissa is just different from almost everyone I know. The kind of different that inspires you and makes you want to conquer the world, love others, and be the best damn version of yourself. After reading her words, I hope you feel: inspired, not alone, and like you want to drive to Cinci now to get new locks at Wild Honey.
xo Sarah
Wild Honey Salon
3966 Montgomery Road
Cincinnati, Ohio 45212
How long have you been a stylist?
Five years.... right? (As she turns to her husband Brandon for confirmation)
Why did you choose this industry for your career?
Because I love art and the creativity and honestly I love hearing people's stories - getting to know someone and creating a style that fits them. That's the coolest thing is completely transforming someone into something that they are like " I would have never thought I would like this - THIS IS ME." I love one-on-ones... I'm not good in groups. Having that one-on-one is really cool.
Do you think you attract the type of people you like at this point?
I think so. When I first had a salon job, it was a completely different vibe because of the area I was in. I felt the people intimidated me because they would look at me like I was a freak. They would look at me like "Are you doing my hair? Can I get someone else?" in a way. That was the most challenging part about being a hair stylist is finding a place I fit in. Then, coming here ad being around these people - the people around here are loving and accepting. You can be free to be yourself. It attracts people who have the same lifestyle.
Why didn't you quit when it was hard?
Honestly, the support of my husband. When I didn't believe in myself - he did. It means a lot to have people who push you and see the vision even when you can't.
It has been a cool thing supporting each other. When he was out on the road all the time, I supported him 100% with his dream. Now that he's home, it has flip-flopped because he supports me so much with this dream. I've always had this dream of owning my own salon... since hair school. I thought "man that would be so cool to create an atmosphere of stuff that I believe in."
Me: Instead of working for someone else's dream...
Yeah... but you have to do that to get here.
Me: Yeah, you did for almost 5 years...
Yes but still I am so young! I have so much to learn. I am not saying I know everything, by any means. But you know, it's a journey.... it might get rocky but its something! I think this is a cool place - I want people to feel loved when they come here. It makes me excited to create that atmosphere.
What do think about this changing industry? What changes would you like to see in the beauty industry?
Since hair school, social media has blown up. It was nothing when we were in hair school. Now, you have to have a portfolio online - and that is... weird. I honestly don't like social media, but it is something you have to have to grow. But it is so awesome because it reaches so many different types of people. What is cool... I love photography, so I am able to bring my camera in and take pictures of clients. I want them to feel beautiful in that way too. It can be awkward sometimes when I ask if I can get a picture of them. I think it is a fun thing I am able to bring - because I love art and I love being creative so it is an outlet for me.
I do wish there was a stronger network for stylists. I think they are creating that. I want people to team up with other salons! Hair magazines used to do this but aren't really cool anymore... they are usually behind on trends.
What do you think keeps stylists from connecting with each other?
Maybe competition? I am still friends with everyone from my previous salon - I still hang out with everyone because I still feel that connection. I have friends who work for other salons in the city and I like to go get my hair done by them to support them and experience their atmosphere. I like to reach out and connect - but it is a weird thing for people and I don't know why it is like that! It could be just competition.
What prompted you to open Wild Honey now?
We moved to Arkansas last year because Brandon's band was done and we were in this new chapter in our lives. It was my plan to open the salon there. I made a list of anyone in Arkansas that could come get their hair done... I mean, I was like "Melissa... you are so busy in Cincinnati." I think in reality I knew it wasn't the best idea. I knew opening my own salon there wasn't the best idea because I didn't have a clientele.
As far as the name, my sister-in-law and I were sitting around - and she knew I wanted to be a beekeeper there too - so I was like... let's put honey in the name! So we sat around and thought of names like "sage and honey" and then she came up with Wild Honey and I said "OH MY GOSH I LOVE THAT." So yeah, I can't even take credit for naming this. And I am kinda wild so... actually I am not. What's crazy is my name, Melissa, actually means honeybee. My grandpa was a beekeeper which I didn't know until my mom told me. When I told my mom I wanted to be a beekeeper she said it wanted to make her cry because of my grandpa. I wish we had pictures of him beekeeping.
Why did you move back and open Wild Honey in Cincinnati?
I got a job in Arkansas hoping to build a clientelle, but it just wasn't happening there. There was some cool stuff going on... but everything was very corporate. They had huge event centers owned by Walmart... street names were named after Tyson. I protested it all and was vegan while I was there because I saw all the chicken trucks while I was driving through town. It was a weird place. Arkansas felt like my hometown and to be in that culture again felt like I was taking steps back... not forward.
We moved back and I said "you know what, let's just do it. I'm going to open the salon and just go for it." And you know, if I fail at least I know I tried my hardest. I think that's hard for people to do - to just go for it and accept that I could fail or could succeed.
Why do you bee keep? Do you think it is important?
I think it is important for the environment because we need bees to pollinate. It is a dying field and I wanted to step up and help save the bees. Honey is so good for us - to eat, for your skin, for your hair. Eventually, once I get my hive built up, I would love to have honey here to sell and do a hair treatment with honey. I think it would be so cool to have something like that.
Currently, I have one hive with 2 deeps. I will be able to harvest honey in the fall. They have honey now, but what they have they will need for the winter to survive. That is where a lot of people make mistakes - they take the honey too soon and then the bees die. I got my bees in April and I am able to collect honey this fall. All the honey in the two deeps is their honey. So I will add another box where the honey I can have will go.
I ordered mine locally - talk to them! They are really cool.
Gaiser Bee Co. - website link here!
It is a wife and husband - they see hundreds of beekeepers. It was nice to see so many new beekeepers because I didn't feel alone. We had a 15-minute time slot to pick up our bees and they went over everything with us. Since then, I've emailed back and forth with her and she always answers my questions. They are super helpful. You can even sponsor a hive on their property!
How much does it cost, entry level, to get into beekeeping?
My bees were $120. I got my starter kit from a place in Ohio, then my bee suit on Amazon... those two things were probably around $200. So, it isn't that bad.
I keep my bees in Middletown because we live in an apartment here in Norwood.
Me: Have you got stung?
I got stung once and after that, I was like NO - I am getting a bee suit!!
Me: Were you mad? Did it make you want to kill the bee?
Well, they die after they sting you so I was like "OH NO" and I felt really bad.
If they sting the suit do they die?
Yeah... I have to be careful because they are moody. Morning and night, I don't mess with them! Midday, I'm usually good. I didn't know they had moods like this until I started learning more.
Side convo... me: sometimes I wish I could completely unplug from all my social media... but I'm in way too deep with my projects.
I know right!? That's just our world now... We have to evolve with what's going on around us. What is going to happen when we are 40 or 50 and we are still trying to be young chicks??
Me: I am going to be cool when I am 50!!
Me too! I hope I am too.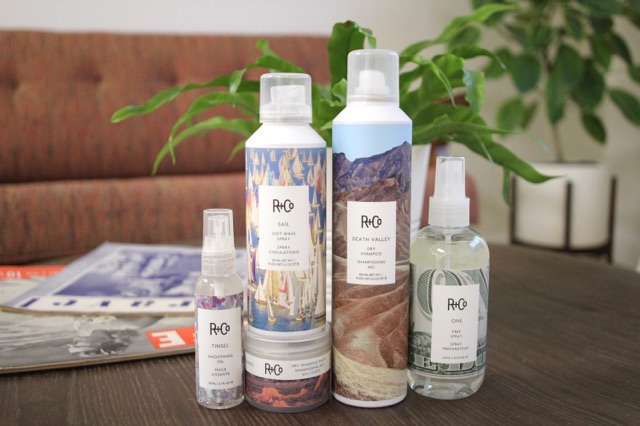 Reach out to any of Wild Honey's social media sites or by calling the salon!
Why did you pick the R+Co line for Wild Honey?
I love art - they are super creative. They are sulfate and paraben free, vegetarian, and almost entirely vegan. I feel having a vegan line is super important because I don't agree with animal testing. I also love that their education is always ahead. I went to the national show recently... they were talking about the shag cut and perms being a new thing - I was like WUT. They are the first people I've heard that from. It is easy for them to stay ahead and I like that.
I found them while I was traveling with Brandon and I became very curious about it because I've never seen it in the Cincinnati area. This brand is comparable to a lot of high end brands that are environment + health-conscious, however, I chose them because of the creativity of the brand and the unique products they have.
What're the best products in the line?
Definitely the dry shampoo! The dry shampoo paste is called Bad Lands - it is amazing. Then this soft wave spray - they just came out with it! It is like a sea salt spray and has a flexible hold. I love the ONE Prep Spray... It evens out your hair porosity and helps fights frizz and heat damage.
Back to BADLANDS... it lasts forever... much longer than traditional dry shampoo. You take a little bit out and you can add it anywhere on your hair or scalp. I like to put it on my scalp - it melts from your body heat. It gives your hair some grit and volume which I love.
Why should women use salon-quality hair products over grocery store brands?
First, I totally understand that people have different budgets. A big reason using better products is important is the build up that grocery store brands leave in your hair. This build up can leave your scalp greasy, clog your pores, cause dandruff, and leave your hair lacking volume because your hair will lay limp. I challenge others to try better products like R+Co to see the difference in the products.
I hate to be a pushy sales person. If you sit in my chair with complaints like your hair being damaged - then I think maybe your products are striping your hair, or the conditioner is lingering on, or you haven't learned how to properly wash your hair and get down in there... this is a thing! When I hear these things, I want to tell them about my products without pressure.
What advice would you give clients about curating their unique look?
I feel ike so many people try to fit inside a box. Have fun with it! Hair grows back.. Color can be changed back. So many times, I try to bring fun out of people like "let's throw a little bit purple in there." And they are like "what?"
Just be yourself and embrace it and who cares what other people think!? That's the coolest thing you can do!
It is hard... and it has been hard for me. I feel like it is for every girl with how the world is. Everyone has that story of trying to fit in. I was always the weirdo-outcast because I played sports but I wasn't on the all the sportsteams - but then I was the art person so I hung out with the scene kids or the weirdos that no one else liked. And then my mom worked at the school in the special needs classroom so she would say hi to me during the school day - I always felt weird. I graduated early - I got out of there!
Then I had both sleeves (tattoos) done by the time I was 20. In my hometown especially, people... usually grandpa... would come up and ask why I did it to myself. That's what makes it so hard for people to do whatever they want with their styles because people - "RANDOS" - will come up and ask "what are you doing? Ew." So, don't listen to the randos!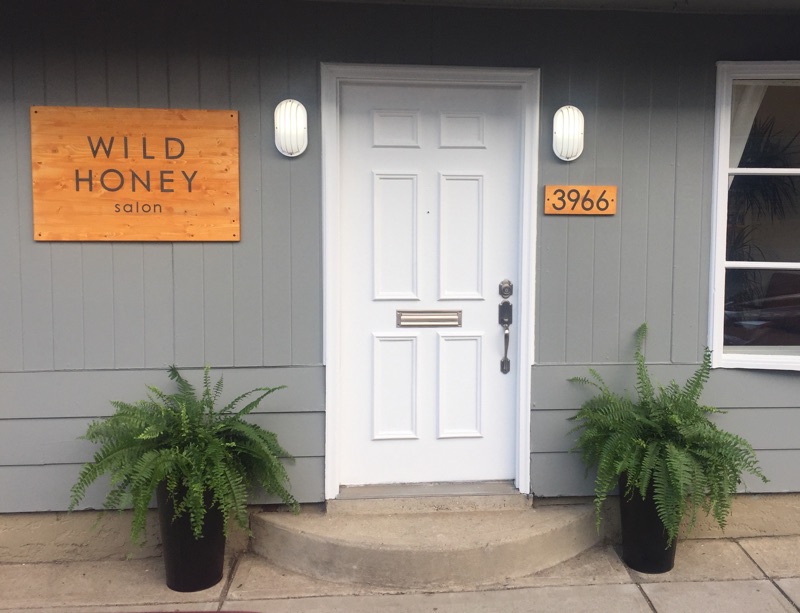 What is your biggest pieces of wisdom to women who want to be entrepreneurs?
If you have a dream, work towards it. Its so cool that even my photography I got into years ago can be used now in Wild Honey. I picked up random skills that I felt like were useless - but I feel like they all have a place now where I can use them. A lot of people hold back. I try not to hold back - well, obviously be reasonable - I didn't just decide to go to hair school and then open a salon right away! I was 20 then and didn't have my stuff together.
Honestly, financially, people would still look at mine and Brandon's life and say "How could you own a business?" We don't own a house, we don't have new cars, we just got a second car! But we've made it work.
I hear different friends who have a passion and I tell them DO IT. JUST DO IT. I feel like it is generic. But, what's the worst thing that could happen? Fail? - that's people's worst fear. And I mean it sucks to fail, everyone fails. Who knows what will happen! Hopefully Wild Honey is successful. If it fails, at least I won't have regret.
Opening the salon changed the way I think about things. I haven't fully embraced that I own something - it is weird to me. I should be proud of myself! It hasn't sunk in yet... tut it is really cool.
My plan for Wild Honey isn't finished. I want it to help women. I would love to do something with yoga in here or with the women in the local women's shelter. I would love to go there or have them come here, to help them. I want to help the community - Norwood is awesome. I would love to built up people here and do things locally.
"You have to dream. I don't understand how people don't." - Melissa
The following Wild Honey R+Co products are vegan:
Aircraft Pomade Mousse, Analog Cleansing Foam Conditioner, Atlantis Moisturizing Conditioner, Atlantis Moisturizing Shampoo, Badlands Dry Shampoo Paste, Bel Air Smoothing Conditioner, Bel Air Smoothing Shampoo, Cactus Texturizing Shampoo, Continental Styling Wax, Dallas Thickening Conditioner, Dallas Thickening Shampoo, Dallas Thickening Spray, Death Valley Dry Shampoo, Foil Frizz + Static Control Spray, Gemstone Color Conditioner, Gemstone Color Shampoo, Grid Structural Setting Spray, High Dive Moisture + Shine Crème, Jackpot Styling Crème, Moon Shine Conditioner, Moon Shine Shampoo, Motorcycle Flexible Gel, Oblivion Clarifying Shampoo, Oblivion Restorative Gel Conditioner, One Prep Spray, Palm Springs Treatment Masque, Park Ave Blow Out Balm, Pinstripe Intense Detangling Spray, Relative Paradise, Rockaway Salt Spray, Sail Soft Wave Spray, Sunset Blvd Blonde Conditioner, Sunset Blvd Blonde Shampoo, Tinsel Smoothing Oil
Trophy Shine + Texture Spray, Twister Curl Primer, Vicious Strong Hold Flexible Hairspray, & Wall St Styling Gel